===============================
There was another arrest on the same day RPK got arrested for his article "Let's send Altantuya's Murderers to Hell" - That of Syed Akbar, The Author of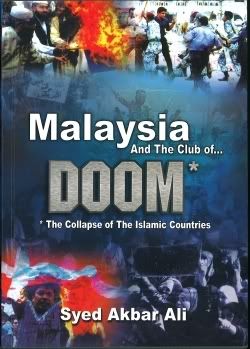 "
Malaysia And The Club of Doom"
(The Collapse of The Islamic Countries)
Author/Publisher: Syed Akbar Ali
ISBN: 9834261918
Paperback, 270 pages
.


BigDog gives his take on the launch of the book here.
A book review is available at myAsylum.
He was an active participant in the comments section of MT, and a comment on the article
03/06: Malaysia's organised crime syndicate: all roads lead to Putrajaya
entitled "
It is easy to Impress the Malays
" caught somebody's eye and got him all fuming
two years later
(!!!), after everybody forgot about it, and most didn't even know it existed ......
(after all MT & RPK wasn't half as popular/famous/infamous back then, until all the free advertisements he got from some people!
It was a time when MT still had plenty of "flowery" lingo and "brutal" comments, and was somewhat still at the "adolescent" phase, unlike what it has matured into now - it is today "Mainstream" and a hotspot with millions of hits to its credit. Bravo RPK. And thanks to people like Syed Akbar too, who were part of those who helped create a vibrant community).
Certainly hope contributions to Bloggers Defence Fund be made available to him should the need arise.
Here
is what I wrote in the

08/05/08 post

about the comment he made
:-

NOTE:

Mr. Syed Akbar Ali was also arrested (posted bail) along with Raja Petra.
He has apparently been charged for a comment that allegedly "insulted Malays & Islam" in June, 2007.Someone mentioned that he was the one of the "Club of Doom" fame - I have no idea if this is the case.
Wasn't he the one who went under the pseudonym- "muftimurtad" aka "mm2007" currently listed as the commenter -"Penerangan UMNO" in the comment on

THIS page - entitled IT IS EASY TO IMPRESS THE MALAYS

, at

05/06 14:59:39 with his "batu-gang" comment.
Despite his many "harsh" comments which I did find quite "scathing" at times, IMHO, they hardly qualify as "seditious". After all, nobody even spoke about it, and it was just a personal comment which could've been regarded as frivolous.
Giving it publicity at the same time as RPK's arrest makes one wonder if there was possibly an "ulterior motive" or "malicious intent" on part of the prosecution.
The following is the Star report yesterday on the "Sedition" case :-
KUALA LUMPUR: A Sessions Court here has set July 4 to hear submissions to determine if the charge against businessman Syed Akbar Ali for allegedly posting a seditious comment on a news portal is defective.
Former banker and writer Syed Akbar, 48, pleaded not guilty to posting the comment in Malaysia Today editor Raja Petra Raja Kamarudin's article titled Malaysia's organised crime syndicate: all roads lead to Putrajaya. The offence was allegedly committed at 2.59pm on June 5 last year at Zeenath Begum Jewellers Sdn Bhd in Jalan Masjid India.
On Tuesday, lawyer Ashok Kandiah told the court he was ready to hand over a copy of his written submission to the prosecution. DPP Ishak Yusof said he would need time to reply to the written submissions.
Judge Rozana Ali Yusoff ordered the prosecutor to put in his reply to the court before the hearing on the preliminary objections.
Lawyer Malik Imtiaz Sarwar and counsel Haris Ibrahim also appeared for the accused.
p.s.
Bravo to
chedet.com
- nice post on
RapidKL
!
Much better than the earlier defensive posts - that is what we need to hear.
We need to see the dirt hit the fan on current matters.
No use complaining about TSA, AAB, KJ, NTR, Malays losing power, "Ketuanan Melayu" ......
As somebody said, "It's the economy, Stupid ...."!
And oh .... a latest addition- real Cool Image from
Bodohland
on
the Altantuya Case:-