The following in Uncle Lim's response to a query from a loser, an ex-MP from MCA:-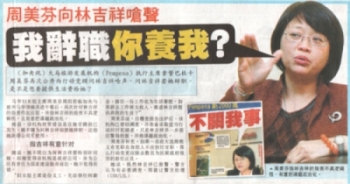 MCA Wanita chief and Pempena Executive Chairman, Datuk Paduka Chew Mei Fun publicly asked me on Thursday whether I will employ and "feed" her if she resigns from Pempena. (Sin Chew Daily, Guang Ming Daily)
My response – Chew should send me her job application with her cv and I will employ her at a salary befitting her real qualifications.
However, Malaysians are amazed at her crass audacity – which is typical of many MCA leaders – that Malaysians owe her a living, and the government must give her a job and "feed" her just because she lost to Tony Pua in the March general election in the Petaling Jaya Utara parliamentary constituency!
If this is the case, then Chew should have been truthful in the March general election campaign and should have owned up publicly that she would be "fed" by the Barisan Nasional government even if she loses in the parliamentary contest against Pua – that she was in an envious "cannot lose" situation, whatever the outcome of the election!
Be that as it may, Chew may be out of her job as Pempena Executive Chairman faster than she think, especially if the Star report "Pempena probe has Azalina fuming" (20.11.98) is to be believed, that the Tourism Minister Datuk Seri Azalina Othman is mulling over whether to shut down the subsidiary of the Tourism Ministry!
The report said Azalina was "irked" by the "nonchalant attitude" of those being questioned over the RM50 million Pempena Group of Companies scandals.
She said:
"I have been told the immediate standard response we have been getting is that it is the Government's money and 'why should we care' statements as if it is the Govern¬ment's obligation to invest with them.

"It is so disgusting when nobody cares. How can you not care when it comes to the people's money?"
Lashing out at the poor Pempena investments, Azalina said:
"Pempena should close down if it cannot invest properly. If it fails, it fails. Then we pick up the pieces and carry on."
What is most shocking is that such outrageous "nonchalant attitude" is fully inherited by the current Pempena executive chairman as illustrated by Chew's utter contempt for accountability, transparency and good governance when she: