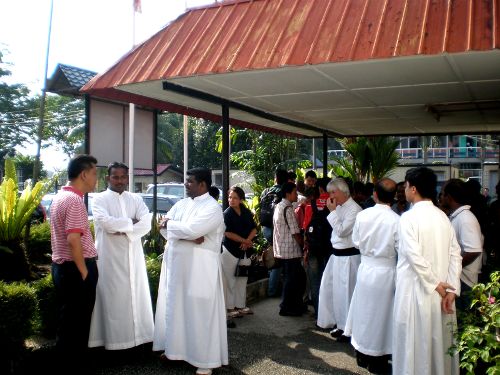 images from http://beyond51.blogspot.com/
(The Star) A total of 21 people, including a Member of Parliament (MP), two state assemblymen and a Catholic priest, were charged in the Magistrates Court here with taking part in an illegal assembly and failing to disperse when ordered to do so.
Petaling Jaya Utara MP Tony Pua, Selangor executive council member Ronnie Liu, Kampong Tunku state assemblyman Lau Weng San, Reverend Father Paulino Francesco Miranda of the Church of Divine Mercy and the rest all pleaded not guilty.
They were arrested on Nov 9 last year under Section 27 of the Police Act for allegedly taking part in an illegal assembly after several warnings to disperse were ignored.
The gathering was a candlelight vigil held at the Petaling Jaya City Council building here on Oct 9 last year to protest the Internal Security Act, among others.
It was organised by the Coalition for Clean and Fair Elections, also known as Bersih.
They face a maximum fine of RM10,000 or a jail term of not more than one year for each charge or both.
Magistrate Rozina Ayob allowed bail of RM1,500 each on one surety and fixed March 10 to mention the case for trial.
=====================================
Meanwhile, in another development,
the PDRM has yet to allow/ refused/ disallowed a second Autopsy
in the case of the death of Kuhan. Khalid had apparently said that the report of the autopsy said that death was due to "lung infection"!!
Hmm ... I wonder what organism is so intelligent & potent in a Police station to
"selectively infect"
only on those in custody - this must be a very special kind of MRSA which attacks so suddenly that it is impossible for those around him to provide medical care.
It
probably
attacks
so suddenly after the person drinks water and causes some sort "breathing difficulty"... maybe it's the variety that throws boiling water on victims ...
My guess is the victim suffered from Acute Pulmonary Oedema/ Cardiac asthma due to
"unknown"
causes. (The reason I suspect this is given in the previous post - after all, this
"infecting organism"
must be too intelligent to
"infect"
the head/brain or the presentation would have been quite different....).
Khalid denied that police had anything to hide and argued there was no provision in the law for them to order the second post-mortem.
"Even if we allow the second post mortem, what if they (family) are still not satisfied, there will be no end to the matter."
What "Hamid Albar" logic (as expected) from this "
defender of children & protector of peace
"!!!
Incidentally, it isn't for him to speculate on the eventuality, is it?
There have been numerous precedents wherein a second autopsy was done to ascertain the cause of death - Why then does he refuse?
This is probably a first, where request for autopsy is concerned, and anyone would smell a rat!!
The family should probably refrain from cremating the body until an independent Pathologist/Coroner conducts the Autopsy.
Fore more, click on the above link.
Below is the Video of the above case ....


===========================================
Police Brutality, Shootings and Deaths in Custody