"Whereas one of the Nine Cardinal Principles of the Rule of the English Rajahs
was that goal of self government shall always be kept in mind
and that the people of Sarawak shall be entrusted in due course with the
Governance of themselves:
And Whereas this principle accords with the policy which
Her Majesty's Government of the United Kingdom and Northern Ireland
have always pursued in the Governance of those territories
of the Commonwealth for whose affairs
Her Majesty's Government have been responsible: ...."
~Stephen Kalong Ningkan,
Malaysia Day Proclamation Speech ,
16th September, 1963
"Thus the Ibans forfeited a commanding position in negotiations on who should form the government. On the other hand, with a Chief Minister who had ethnic, political, and religious empathy with the Malaysian Alliance leaders and the party representing the majority of the Chinese safely in the state coalition government, Sarawak politics had finally been molded in the UMNO-led Peninsular Malaysia Alliance image. And a family dynasty of state chief ministers that would last beyond the turn of the century had been established."
~
The Malayanisation Of Sarawak-A Malayan Wayang Kulit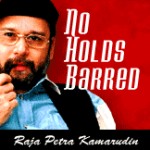 What is the real meaning of Merdeka. Sabah and Sarawak are supposed to be Merdeka but are they or did they actually exchange one colonial master of white skins for anther colonial master of brown skins?
NO HOLDS BARRED
Raja Petra Kamarudin

How appropriate for RPK to say that Sarawak & Sabah are Colonies in the true sense of the word. I for one am in total agreement. They are treated as "anak tiri" by our BN warlords who control the states. They seek to impose upon them a system/culture which foreign to them through their "social engineering" tactics.
Donald Stephen (later Tun Fuad Stephen), Tun Datu Mustapha, Tun Abdul Razak
Right from Day-1, the agenda of the BN Govt was plunder .... and Oil (through Petronas) money was the subject.
Wikipedia has this to say about Petronas:-
"
Petronas
, short for
Petroliam Nasional Berhad
,
[

1

]
is a Malaysian-owned oil and
gas
company that was founded on August 17, 1974. ....
Several factors converged in the early 1970s to prompt the Malaysian government into setting up a state oil and gas company, as first proposed in its Five Year Plan published in 1971. Former Chief Minister of Sarawak, Tun Abdul Rahman Ya'kub was one of the people who proposed the idea of Malaysia setting up their own oil company.
After negotiations lasting from 1977 to 1982, Petronas had concluded contracts with
Tokyo Electric Power
and
Tokyo Gas
for the sale and delivery of LNG through to the year 2003. Malaysia LNG was to send almost the entire output of its Bintulu gas fields to Japan, under these contracts and another one, signed in 1990, to supply Saibu Gas of Fukuoka, in southwestern Japan, for 20 years from 1993.
Since inception in 1974, Petronas have paid the government RM 403.3 billion, with RM 67.6 billion in 2008. The payment represents 44% of the 2008 federal government revenue."
After "independence", the Оrang Вajau Ubian -Kagayan and Orang Suluk/ Tausug origin, Mustapha Harun, indulged in the social engineering required to keep himself in power. As in the case of all Sabah CMs- his lifestyle and wealth was legendary. Tun Datu Mustapha was famous for his mass-conversion ceremonies- wherein the docile & friendly natives were rounded up like cattle or bribed to come for events they knew nothing of- and made to sign documents which the state used to declare them Muslims.
Apparently that was how the Kadazan community got split- rendering the Muslims into "Dusuns" (I'm not so sure about this- so correct me if I'm wrong here). Since those days, many a white-elephant Mosques were built to give Sabah that "Islamic" image- a practise which goes on till today ....
but today, after all their tinkering, I think the muslims (thanks to the instant Malaysians from across the borders) have become the majority
.
This is what Wiki has on Mustapha -
"As reported in local news such as Daily Express
(2nd page, 11 Nov 2009), the Malaysian home ministry informed in parliament that a biography of Tun Mustapha's political opponent who died in the double tenth plane crash, Datuk Peter Mojuntin, is banned. The reason was that the book "allegedly" recorded that Datuk Peter exposed Tun Mustapha's attempt to destroy Christianity in Sabah by deporting and arresting foreign missionary priest who were serving their local parishes in the State."
Now, with the founding of Petronas in '74, all the dynamics changed- henceforth, it was going to be the "black gold & gas" - oil money - which determined Sabah's (& Sarawak's) leadership ....
Despite all his Islamization drives and import of Filipinos for his phantom votes for USNO (

with Alliance/BN backing

), Mustapha
lost out when his demand for Oil royalties of 30% was rejected by BN. Sabah went to Berjaya's Harris Salleh who we could presume, agreed to the measly 5%. [
Anyway- after the political "expiry" of Mustapha, Donald Stephens (aka Fuad Stephens) also disappeared soon after (after 44 days in office) in a plane crash in '76
]. After 10 yrs of Haris Salleh- the then Pairin got hold of Sabah for the next 10 yrs.
Needing the revenue from Sabah to get Malaysia of the recession, Mahathir with the help of Anwar Ibrahim got the two pirates - Harris & Mustapha- to unite to form the Sabah chapter of UMNO, in order to oust Pairin's PBS, and bleed Sabah of its natural resources (oil & gas).
With the entry of UMNO into Sabah- it heralded a "new" era reminiscent of the good ol' Mustapha days- the only difference was, this time around, it was "
on steroids
". Everyone knows Anwar's role in getting Umno into Sabah & the power struggle with Pairin - then came the "Project M" which has in effect reduced the political power of the indigenous peoples of Sabah, and the rise of the pirates who usurped the privileges due to the natives.
The ripping of the social fabric through the various "
Islamization on steroid
" projects these days, need no introduction- now they have even got a detention centre in Kinarut ready for those who don't give a fig about religion, let alone practice the Islam they apparent converted to for a few screws or maybe promotion/loans/cash/licences.
Now children can be legally abducted from families, and marriages can be annulled with full support from the Government run by UMNO. Children brought up as Christians can now have the state legally impose Islam upon them- and sent to welfare/orphanages/foster families .....
The granting of citizenship & "bumiputra" status to not just Malays from Semenanjung, but also foreigners from neighbouring Philipines and Indonesia. It is common knowledge also that many foreigners from even Bangladesh & Pakistan have managed to acquire their citizenships.bumiptra status through the same "social engineering"/Project M/NRD syndicates orchestrated by Umno.
Moving on to Sarawak ...
"Pek Moh"
Taib doesn't give a damn about anything other than the wealth he can generate for himself. He doesn't care if the mob runs the show in the state, or if the natives' rights and land are taken away. It doesn't matter if the people are condemned to a life of poverty and capitalist slavery to the pirates, gangsters & colonisers - what matters is that Taib gets his share of the pie, while the rest can go to hell with Umno.
However- with the waning of Taibs power in Sarawak, Umno is itching to set foot in Sarawak .... and if that happens, you can bet your last sen that the same things that happened in Sabah will repeat itself in Sabah (
if the Foochows there cannot help it
). Not that it hasn't been happening (
you can read about all the "crocodiles bin abdullah" in the earlier post
)- but just isn't
"on steroids"
.
Here is something I got from
Bukit Tungal
:
The chief minister ought to be a Dayak.
The reality is quite a different thing. The first Sarawak CM Stephen Kalong Ningkan (1920-1997) was indeed an Iban. But he was forcibly removed in 1996 by a federally initiated Declaration of Emergency and a constitutional amendment. Since 1970, the two Sarawak CMs have been Melanau Muslims.

Since then, the Dayak communities have been mired in political marginalisation and socio-economic backwardness that can hardly be imagined by people living in affluent states of Peninsular Malaysia........
Living mostly in the vast rural areas of Sarawak, many still live without basic amenities such as roads, jetties, clinics, treated drinking water, and electricity. Time for them has stood still since independence in 1963.
It would be tempting to blame the socio-economic marginalisation of the Dayaks entirely on racial discrimination, but that would be too simplistic.Although many Malay/Muslim politicians and technocrats have amassed fabulous wealth under the patronage of CM Taib Mahmud, the Malay/Melanau people too live in the same kind of socio-economic quagmire that impedes progress in their community.
Since the political demise of Stephen Kalong Ningkan, the failure of the Dayak nationalist impulse in Sarawak in presenting a more inclusive Sarawakian narrative is one of the reasons for its failure.
Anyway- Many conveniently speak of the Sarawak's 18-point Agreement on forming the federation of Malaysia. However most (if not all) don't seem to know what the contents are ... (beyond the usual, "
It's just the same as the Sabah on lah ..
").
It has been more than 2 yrs since I first starting looking & asking around for the 18-point Agreement which was signed by Sarawak when it had agreed to form Malaysia along with Peninsular, Sabah & Singapore.
I have asked many- some Sarawakians claimed to have it (
or know the contents at least
) as well .... but so far, I have NOTHING!!! (
I tried requesting informally from someone in the National Archives- the only response I got was an elegant silence
-
now I'll have to try again personally
).
After all these days- the only thing I got in response from those claimed to know the contents was the Sabah's 20-point Agreement with a footnote saying
"It's almost the same lah ...."
.
Why then is it so difficult to find?
Sure- I can accept that, but why then is it called "18-point"?
Why isn't it "20-point" as in the case with Sabah?
So if any of you, have access to it or know the contents of it verbatim- please enlighten us (me, at least).
Thanks.
"Agi Idup Agi Ngelaban"
PS

For the list of the CMs of Sabah/Sarawak, click
HERE.